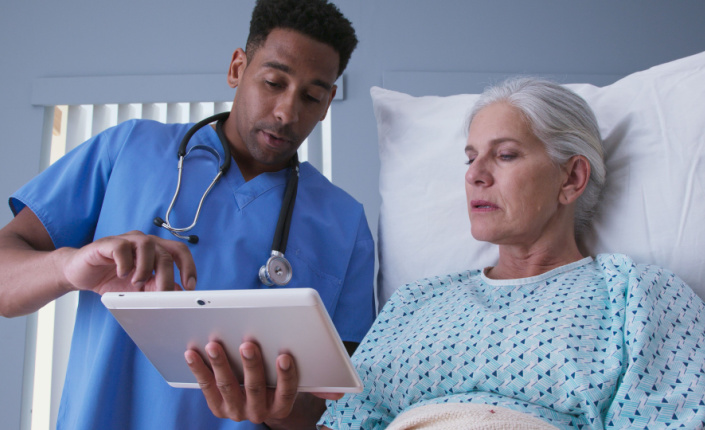 Are you considering a change from your current career to nursing? If so, Kentucky is an excellent state to pursue this transition. The current demand for nurses in Kentucky is high, especially in hospital settings. A 2021 survey report of the Kentucky nursing workforce was published by the Kentucky Hospital Association and showed 23,144 open registered nurse (RN) positions in hospitals statewide. By the end of 2021, approximately 22.1% of nursing positions were vacant.
This blog will show you how to become a nurse in Kentucky, using your current bachelor's degree in another field as your starting point. Aspiring nurses can help address the Kentucky nursing shortage by completing a nursing education program, obtaining RN licensure, and entering nursing practice in one of the many specialty areas where nurses are needed.
Specialty Areas and Demand for Kentucky Nurses
According to the Kentucky Hospital Association survey, three specialty areas have the most nursing position vacancies. These areas are medical-surgical nursing, critical care nursing, and the emergency department.
In December 2021, the Kentucky Nurses Association published survey results of potential alleviating factors for the Kentucky nursing shortage. A highly-ranked solution with a promising impact was the generation of more nursing staff to help improve the nurse-to-patient ratio.
A $10 million initiative called the Kentucky Healthcare Workforce Collaborative has been designated in the 2022 budget bill to help meet the demand for Kentucky nurses. This initiative plans to appropriate funds in the following ways:
Provides grants to public institutions.
Pays costs to support an advisory group.
Raises awareness for students to pursue health-related occupations.
Improves transitional pathways for students from high school and technical school to college-level healthcare occupation programs.
Assists healthcare organizations in the professional development of their employees.
These promising plans position Kentucky for an optimistic future. You can help address the nursing shortage and be part of the solution for meeting Kentucky's healthcare workforce needs by making a change to nursing as a second career.
Next, let's explore the required steps to become a licensed nurse in Kentucky. The requirements are established by the Kentucky Board of Nursing and begin with the application for licensure by examination.
Obtaining RN Licensure in Kentucky
The RN licensure application process is completed online and submitted with a non-refundable application fee. To obtain an RN license in Kentucky, the following items are needed:
Complete both state and federal criminal background checks
Apply for and pass the NCLEX examination to certify readiness for entry to practice
Submit transcripts for the Board of Nursing to verify the successful completion of an approved nursing education program
Pass a short test on Kentucky nursing law called the jurisprudence examination
The jurisprudence examination consists of 35 computer-based questions that test the applicant's knowledge of Kentucky law relative to nursing practice. The NCLEX uses computerized adaptive testing to gauge the examinee's performance and delivers easier and harder questions based on the responses provided.
Online nursing programs in Kentucky are available and prepare graduates to meet the educational component of the RN licensure process.
Approved Kentucky nursing education programs have important topics included within the curriculum. Graduates of programs outside of Kentucky must demonstrate completion of mandatory, content-specific continuing education in the following areas as part of the RN licensure application:
Domestic violence (3 contact hours)
Pediatric abusive head trauma (1.5 contact hours)
Suicide prevention (2 contact hours)
Implicit bias (1.5 contact hours)
Kentucky also allows new graduates the ability to apply for a provisional license that is granted within 14 days when an individual has met all application requirements for nursing licensure. A provisional license allows a nurse to practice as an RN applicant (RNA) under the direct supervision of a licensed Kentucky nurse within the state of Kentucky only. The provisional license is valid for six months and converts to a full license when the applicant passes the NCLEX examination. The provisional license is voided if the applicant fails the NCLEX examination twice.
Once licensed as an RN, you can specialize in one of many areas. There are clinical and non-clinical nursing roles and various specialty areas within hospital settings. Next, let's dive deeper into the demand for Kentucky nurses, including the specialty areas where the most significant nursing vacancies exist.
The earning potential for a nursing career is another important factor to consider, so let's look at how much money nurses in Kentucky are making.
Salary for Nurses in Kentucky
In 2021, the Bureau of Labor Statistics reported the annual average salary for Kentucky registered nurses was approximately $67,260 per year. To maximize your earning potential, consider working in an ambulatory care center or hospital unit. In the United States, the highest-paying work settings for nurses were outpatient clinics and hospitals.
To become a nurse with a quality education and an efficient timeline, consider one of the online accelerated nursing programs in Kentucky. Holy Family University offers an online accelerated Bachelor of Science in Nursing (ABSN) program with 100% online coursework, hands-on training, and clinical experiences with placement support in your local community.
Earn Your BSN With Holy Family University
Holy Family University is an excellent choice for aspiring nurses looking to enroll in one of Kentucky's online nursing programs. Your bachelor's degree in another field is an educational prerequisite for the ABSN online program.
The program prepares students to become registered nurses and prepares students to meet the necessary licensing guidelines. You will practice critical thinking skills and learn to provide evidence-based nursing practice to patients of all ages.
Pass rates for the NCLEX examination are above the national average for Holy Family University's Second Degree Distance Hybrid BSN program graduates. Anticipated program outcomes include the ability to effectively collaborate and communicate within an interdisciplinary team while maintaining professional values and using information technology to deliver healthcare.
Start your journey to becoming a registered nurse in Kentucky with a Second Degree Distance Hybrid Bachelor of Science in Nursing from Holy Family University