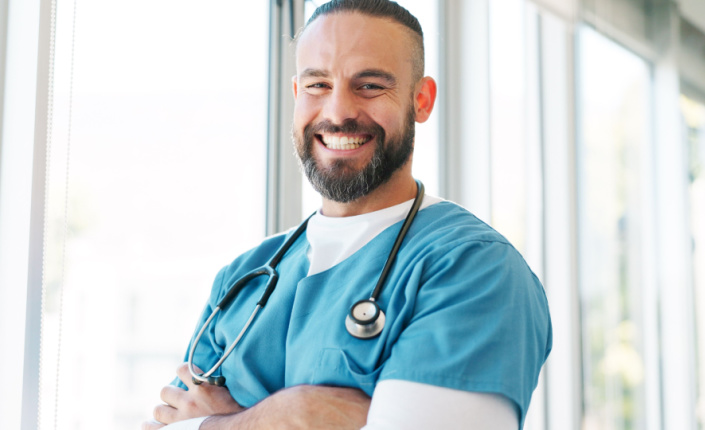 In Maine, nursing education programs are expanding as part of the solution to the current nursing shortage. Maine is projected to have an approximate shortage of 1,450 nurses by the year 2025. This number is an improvement from earlier projections, which demonstrates the potential for the successful development of a robust health care workforce in the future.
In this article, we will explore how to become an RN in Maine and the career outlook for this in-demand profession. It is important to note that you can enter nursing school without prior college credits or with a degree from another field. As you consider the options to begin or transition your career and become a nurse, an understanding of RN requirements will help you make an informed decision.
Complete The Form to Access My ABSN Program Guide
Steps to Becoming a Nurse in Maine
The first step to becoming a nurse is to complete an approved nursing education program. Several different types of programs will allow you to become a nurse in Maine. The program that is right for you depends on your educational background, desired time commitment, and future career goals.
Many students choose to enroll in an Associate Degree in Nursing (ADN) or a Bachelor of Science in Nursing (BSN) program. The ADN route is typically two to three years in length, while the BSN route takes an average of four years to complete. Both educational programs prepare you to become a registered nurse.
If nursing is not your first career, a Bachelor of Science (BS) or Bachelor of Arts (BA) degree in another field can be the starting point for your nursing education. Designed to transition experienced learners into a nursing role in a shorter amount of time, accelerated BSN (ABSN) programs are offered with online coursework in addition to hands-on clinical training. There are many attainable careers for BSN nurses.
If you have a longer-term goal of working in an advanced practice or leadership role, the BSN degree is a foundational requirement for most graduate-level nursing programs. A variety of master's and doctoral nursing programs prepare students to become nurse educators, nurse administrators, nurse practitioners, and other types of advanced practice registered nurses (APRNs).
Nursing License Requirements in Maine
Graduates of approved nursing education programs in Maine will follow the licensure application process and adhere to the rules and regulations for nursing practice set forth by the Maine State Board of Nursing.
The application for licensure as a registered professional nurse in Maine is now completed online, and you will need to submit a $75 non-refundable fee with your application. A current photo is required to be uploaded along with a signature page and supporting documentation regarding any prior disciplinary action.
The following components are also part of the application process:
Criminal background check
Transcripts from your nursing education program mailed to the Board of Nursing
School certification completed by your nursing school program administration
Registration for the national nurse licensure exam (NCLEX) if applying for licensure by examination
Nursing licensure applicants are required to register for the NCLEX by submitting their educational program code. This registration will open a one-year window in which they will be permitted to take the exam. This must be done before the Board of Nursing makes the applicant eligible with an Authorization to Test (ATT). Once the ATT is received, an applicant may schedule an appointment to complete this computerized examination at any testing center.
When all licensing requirements have been satisfied and the NCLEX exam has been passed, the Board of Nursing will grant licensure to the candidate and send this information via email to the address provided on the application. You can check the status of your application online throughout the process.
RN Salary in Maine
According to the Bureau of Labor Statistics (BLS), the average annual salary for an RN in Maine was approximately $73,630 per year in 2021 with a median hourly wage of approximately $36.08. Nurses are employed in both clinical and non-clinical positions and have schedules ranging from part-time to full-time and even PRN ("as needed") arrangements. With this variability, there are many possible ways to make nursing your main profession or potentially maintain another part-time career while working as a nurse.
After becoming a nurse, you might choose to pursue additional nurse certification to further advance your career and salary potential. Certifications are milestones that validate your professional competency in any one of many specialized areas of nursing. The American Nurses Credentialing Center (ANCC) has a variety of certifications available in the areas of:
Ambulatory care nursing
Cardiac vascular nursing
Gerontological nursing
Nurse informatics
Medical-surgical nursing
Case management
Pain management
Pediatric nursing
Psychiatric-mental health nursing
Professional development
Nurse executive and advanced nurse executive
You may be feeling optimistic about the career outlook for nurses but unsure about committing to a nursing program, especially if you already have a steady job. Tips for how to succeed in nursing school may help you weigh the challenges and possibilities associated with additional education. Second-degree distance nursing programs are achievable and efficient options for students with a bachelor's degree in a non-nursing area.
Demand for Nurses in Maine
The BLS Occupational Employment and Wage Statistics show that Maine has a higher-than-average share of employment for RNs in the United States. In 2021, there were approximately 14,380 nurses employed in Maine. Out of every 1000 jobs in Maine, roughly 24.28 were RN positions.
When you become a nurse in Maine and are also a resident of the state, you have the bonus of access to a compact (multistate) nursing license. Maine is one of 39 jurisdictions that has enacted the nurse licensure compact (NLC) that allows nurses with a multistate RN license to practice in another NLC state without having to obtain additional nursing licensure. This expands the potential for Maine nurses to be employed in their home state and other compact states, including Vermont and New Hampshire.
If you're ready to take the next step and become a nurse in Maine, Holy Family University offers a top-ranked online program to help you reach your goals at an accelerated pace.
Become a Registered Nurse at Holy Family University
Some of the best reasons to choose Holy Family University for your nursing education include pass rates for the NCLEX that are above the national average and a program that is accredited by the Commission on Collegiate Nursing Education (CCNE)*. Maine is one of several states where Holy Family University offers an online ABSN program with exceptional value.
Students in the online nursing program will complete 100% online coursework, an on-campus residency, and required clinical hours while interacting with expert faculty who teach how to apply nursing knowledge and assessment skills in the clinical setting.
Complete The Form to Access My ABSN Program Guide
* Online modality pending approval