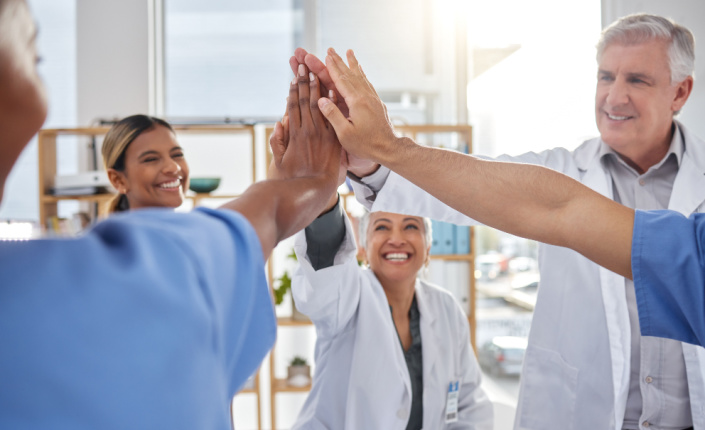 National Nurses Day celebrations have honored nursing professionals with recognition and special events every May 6th since 1982. This day is part of a National Nurses Month established in 2020. The key to nurse appreciation, however, is to celebrate their hard work throughout the year.
The National Center for Health Workforce Analysis (NCHWA) found 89% of surveyed nurses were satisfied with their jobs. This satisfaction level comes from a combination of recognition efforts and the satisfaction of helping patients. Nurse leaders can extend their efforts beyond National Nurses Week by following standards for nurse appreciation.
Best Practices for Nurse Appreciation
The most effective methods for nurse appreciation empower nursing staff in their daily work. The American Association of Critical-Care Nurses (AACN) created standards for healthy work environments as a starting point for improved nurse recognition. A healthy work environment for nurses involves the following elements:
Skilled Communication
True Collaboration
Effective Decision Making
Appropriate Staffing
Meaningful Recognition
Authentic Leadership
National Nurses Day and Week recognition are more impactful if nurses feel appreciated for the other 51 weeks each year. Nurse leaders can incorporate elements of AACN's standards into the following formal and informal appreciation efforts.
Comprehensive Onboarding
New nurses are highly motivated to help patients but may be overwhelmed by high-speed clinical environments. Hospitals and other nurse employers show their appreciation from day one with comprehensive onboarding processes. An onboarding program with the following features starts new hires on the right foot:
A buddy system pairing new nurses with early-career colleagues
Walk-throughs of medical records systems and other technology
Training sessions on unit or department-specific responsibilities
Orientation on safety, compliance, and facilities
Nurse employers can also start new hires with welcome baskets built from recommendations by current nurses. Gel inserts for shoes, snacks, and food delivery gift cards show appreciation to new members of the workplace. Welcome baskets also demonstrate employer commitments to staff health and wellbeing.
Clear Communication
A 2021 study published in Healthcare found a direct connection between the communication skills of nurse managers and nurses' job satisfaction. Researchers concluded that nurse leaders are responsible for "creating and maintaining a culture of trust and teamwork among employees." Managers show their appreciation for nurses with effective and meaningful communication.
Nurses feel recognized by their supervisors when they are shown empathy in the midst of stressful experiences. Transparent communications during check-ins and conversations boost morale through unified efforts. This form of nurse appreciation may seem the easiest to implement but requires ongoing commitment by everyone involved.
Participation in Decision Making
Patients of all ages encounter registered nurses as the primary points of contact in their clinical experiences. This front-line role means that nurses gain insights on their patients' welfare and their interactions with the healthcare system. Healthcare team members can show their appreciation for nurses by ensuring they are involved in clinical decision making.
A 2021 Journal of Advanced Nursing study determined that shared decision making with nurses could improve the quality of life-prolonging treatments. Collaborative approaches to treatment plans can incorporate the insights gained through nurse conversations with patients. Nurses can also contribute to discussions of budgets, hospital quality, and community outreach if given these opportunities.
Opportunities for Career Growth
First-generation nurses and others unfamiliar with the profession may not be aware of growth opportunities. Experienced registered nurses can often move into shift supervisor and unit manager roles without earning additional degrees. They can also complete graduate degrees for advanced-practice nursing positions in the future.
Nursing workplaces recognize the professional goals of staff members through clearly defined career ladders. A career ladder includes professional development courses, mentoring, and benchmarks for success. Paths to supervisory and leadership roles reward registered nurses for their commitment to exceptional care.
Patient Appreciation
Nurses develop close connections with their patients because they care about their health and well-being. Patients' lives are improved by nurses, creating relationships beyond the most recent appointment or emergency room visit. Nurse leaders can organize events showing patient appreciation for nurses as part of their recognition programs.
Patient appreciation for nurses can be as simple as hand-written notes expressing thanks for their hard work. Get-togethers for nurses and past patients further build on connections forged in more difficult times. This form of appreciation recognizes the positive impacts of nurse-patient relationships on care quality.
Awards Program
National Nurses Month celebrations include social events, hand-written notes, and gifts for nurses across the country. The spirit of this annual acclaim can be carried throughout the year with small acts of recognition. An awards and recognition program demonstrates that nurses are valued no matter the current day or month.
Nurse leaders can recognize high-performing nurses with weekly and monthly awards for each unit. Personalized cards and gifts for award recipients show appreciation for jobs well done. It is also possible to recognize all-staff efforts with regular outings and meals.
Impacts of Nurse Recognition and Appreciation
Nurses work in stressful environments and face new challenges on a daily basis. The COVID-19 pandemic and an aging patient population present additional issues for nursing units. A sustained commitment to nurse appreciation improves staff well-being and retention.
AACN surveyed 9,000 nurses in 2021 about the effects of recognition and appreciation on their professional lives. The results showed 55% of respondents in units using any of AACN's healthy work environment standards were very satisfied with their jobs. Thirty-four percent of nurses working in units that haven't adopted AACN standards were very satisfied.
Improved job retention is a good reason for nurse leaders to advocate for year-round staff appreciation. The U.S. Bureau of Labor Statistics (BLS) estimates a need for at least 195,400 new nurses by 2031 to meet demand. AACN found that surveyed nurses were half as likely to leave their roles within one year if leadership implements healthy work environment standards.
Supportive and healthy workplaces make nursing a more attractive position for newcomers. Hospitals across the country will need to hire and retain second-career nurses to fill future vacancies. Holy Family University prepares career-changing students for the nursing workforce with its Second Degree Distance Hybrid BSN.
Starting a Fulfilling Career with Holy Family University
Holy Family University designed this innovative degree for professionals switching to nursing from other careers. This 14-month program offers entirely online coursework taught by experienced nurses who can share tips and stories from clinical environments. Future nurses complete 59 credits on topics including:
Foundations of Nursing Practice
Medical-Surgical Nursing
Nursing and Older Adult Health Promotion
Transition to Professional Role
Leadership
Research for Evidence-Based Nursing Practice
Hybrid BSN students receive guidance from the clinical placement team as they complete clinical requirements. The program requires 504 hours of supervised experiences local to each student. Holy Family University shows its appreciation for nursing students through personalized clinical experiences.
Graduates of the Hybrid BSN program benefit from the university's stellar regional and national reputation. The Hybrid BSN is accredited by the Commission on Collegiate Nursing Education and approved by the Pennsylvania State Board of Nursing. U.S. News & World Report placed Holy Family University on its list of Best Bachelor of Science in Nursing Programs for 2022-2023.
Learn more about Holy Family University's Second Degree Distance Hybrid BSN by requesting the program guide