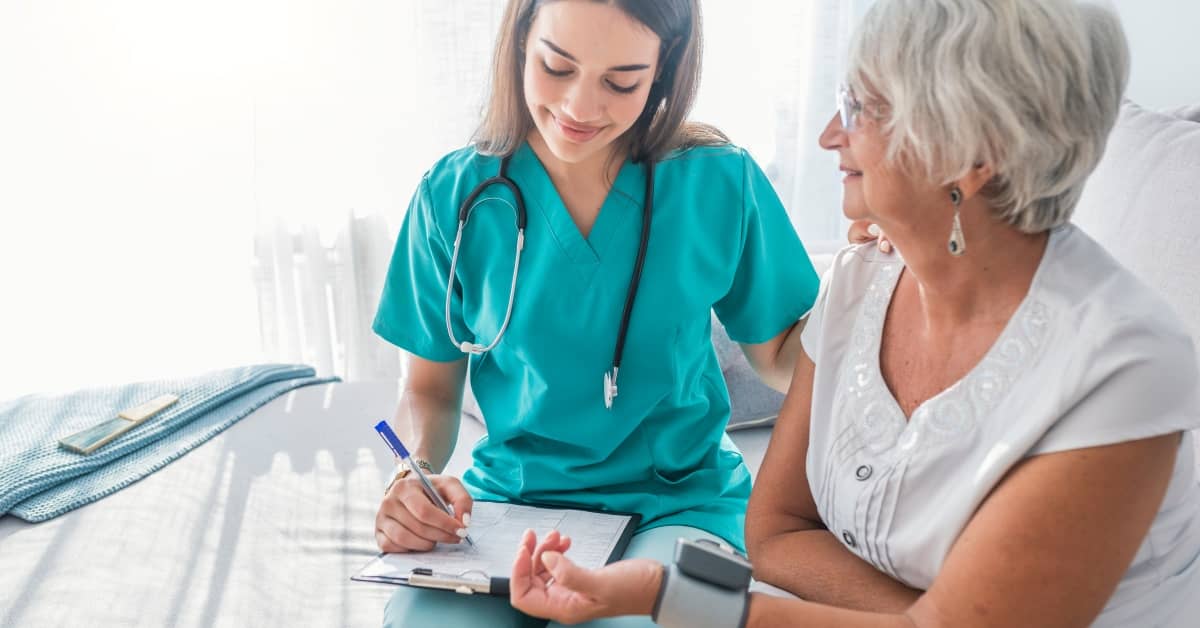 The nursing profession is rewarding, with patient care opportunities and non-clinical employment positions available across the country. However, nurses in the state of Indiana are in a unique location as the nursing landscape continues to change and demographic trends shift the population makeup. If you currently hold a bachelor's degree in another field besides nursing and are looking to begin your career as a nurse, this article will outline the steps to show you how to become a nurse in Indiana. 
Complete The Form to Access My ABSN Program Guide
Indiana Nursing and Population Landscape
According to estimates by the United States Census Bureau, since 2010 there has been a nearly 5% population increase in the state of Indiana. The largest growth has occurred in the residents of Hamilton County, a metropolitan area encompassing part of the state's capital city of Indianapolis. If you are passionate about helping care for an aging population, the number of residents in Indiana age 65 and older has also increased by nearly a third in this timeframe.
The next largest population increase in Indiana was seen in those aged 20-34, a cohort that might typically be composed of young families. Nurses interested in pediatrics or labor and delivery may find these employment opportunities. Trauma-informed care and mental health nursing are also necessities. According to a 2020 report by Mental Health America, approximately one in five adults is experiencing a mental illness in Indiana.
Rural Indiana is also full of opportunities for working nurses to expand access to health care. Approximately 22% of Indiana's population lives in non-metropolitan areas. Indiana nurses can be found working in a variety of clinical settings inclusive of primary care offices and hospitals. However, commutes in rural areas can make it more difficult for patients to be connected with the care they need if larger health care facilities are not within a short driving distance.
With a rural population, Indiana nurses employed by home health agencies also travel country roads to bring nursing care into patient residences, assisted living communities, and nursing home settings. No matter your desired practice setting, Indiana online nursing programs are equipped to partner with you in an educational journey toward success in your future career. Let's begin by exploring an overview of the necessary steps to become a nurse in Indiana. 
Steps to Become a Nurse in Indiana
Organizational skills are helpful when setting out to become a nurse in any state because the process of applying for licensure has several steps. In Indiana, the state board of nursing is clear in defining the steps to becoming a nurse. One of the steps is to verify your graduation from a quality nursing education program.
It is important to note that state boards of nursing have rules and regulations that govern the operation of nursing education programs. Indiana is no different in this, as the laws governing nursing education can be found in the Indiana Administrative Code. These laws establish requirements that online nursing programs in Indiana must meet in order to be accepted as quality programs that adequately prepare graduates for nursing licensure.
The steps to become a registered nurse in Indiana include graduation from an Indiana nursing program, successful passing of the NCLEX-RN examination, and submission of an application process for Indiana nursing licensure. Next, let's explore nursing licensing information set forth by the Indiana Professional Licensing Agency for how to become a nurse in Indiana.
Nursing Licensure Requirements in Indiana
There are several mandatory items that nursing licensure candidates in Indiana must comply with in order to be properly vetted. These include the following:
Completion and submission of an RN licensure application (with application fee)
Compliance with a criminal background check
Court documentation of legal items such as name change or malpractice history
Validation of secondary education and nursing program completion with transcripts
Submission of a certification of completion by the nursing program dean or director
Verification of any nursing licensure (past or present) in any other state
Registration confirmation for the NCLEX-RN examination
It can seem overwhelming if this is your first time becoming a nurse and going through a licensure application process. To simplify the process, it is best to allow plenty of time for your application to process while following the steps with precision and patience. Becoming a nurse as a second career is possible and may interest you when considering the salary and demand for nurses in Indiana. 
Salary and Demand for Nurses in Indiana
Financial compensation and employment outlook are two necessary factors to consider when embarking on a new career pathway. In 2022, registered nurses in Indiana are making approximately $42 per hour and receive robust benefit packages with 401k retirement plans, health insurance, flexible work schedules and paid vacation time depending on the position and employer offerings.
The Bureau of Labor Statistics provides additional data. In May 2021, registered nurses in Indiana were reported to make an average salary of approximately $68,890 annually with an employment rate of approximately 66,800 nurses. In the United States, general medical and surgical hospitals employ the greatest number of registered nurses with home health services trailing closely behind. These practice areas and nursing specialties align with the combination of metropolitan and rural areas in Indiana.
Since COVID-19, the shortage has led to employers offering large sign-on bonuses. Indiana is anticipated to need at least 5,000 additional nurses by the year 2031 to meet the increasing demands as nurses continue to retire and the aging population increases. There is ongoing work to address the severe nursing shortage in Indiana, including continued legislation efforts to maintain quality nursing faculty needed for nursing education program enrollment to increase.
Online accelerated nursing programs are available to help you become a nurse in these urgent times. As you set out to explore the available online nursing programs in Indiana, consider Holy Family University as a quality option for your education.
Become a Nurse with Holy Family University
Nursing school is an exciting challenge for individuals who want to make a difference. Succeeding in nursing school is an important step in this journey. With Holy Family University, you can achieve a BSN degree in an online, accelerated format. A supportive team is available to help you from the start of your program through graduation.
The online ABSN program includes immersive simulation with 100% online coursework to prepare you for a future in nursing. With pass rates for the NCLEX-RN examination that exceed the national average and a team to help secure your clinical placements, Holy Family University offers a quality pathway forward. Start your journey to becoming a registered nurse in Indiana with a Second Degree Distance Hybrid Bachelor of Science in Nursing from Holy Family.