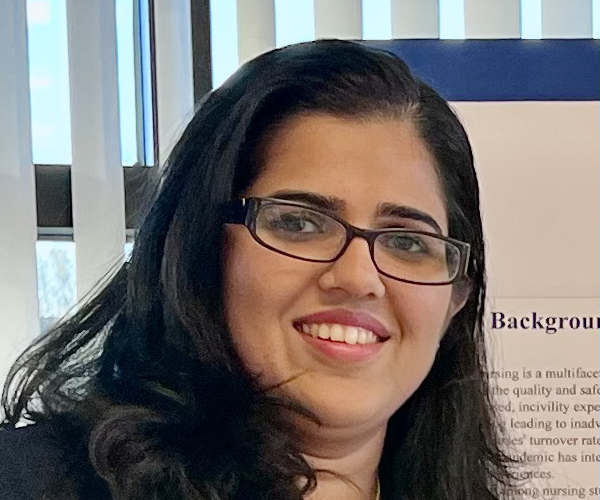 Dr. Rinu Stephen, DNP, MSN, RN 
Second Degree Hybrid BSN Program Coordinator & Assistant Professor 
Do you dream of becoming a nurse? Program Coordinator and Assistant Professor, Dr. Rinu Stephen, shares how Holy Family University equips online students to enter the nursing profession in just 14 months. Check out her full interview and advice for future students considering a career change.  
What makes Holy Family University's online ABSN program unique?
From my perspective, what is most unique about Holy Family University's ABSN program is that it offers an accelerated nursing program that can be completed in as little as 14 months. Through an online program, we offer the same faculty availability and other support services as our on-campus program. 
One thing that sets Holy Family apart as an institution is its commitment to giving each student a tailored education that suits their learning needs. Due to the school's low student-to-faculty ratio, there is more opportunity for one-on-one interaction between students and their teachers.  
Holy Family strongly focuses on experiential learning, providing students with hands-on experience through clinical rotation, simulation, and residency experience.  
What is your favorite part about being a faculty member at Holy Family? 
It is my sixth year being a faculty member at Holy Family University. What I love about Holy Family University is that we have a pool of diverse and seasoned faculty dedicated to student success. Holy Family University encourages us to utilize innovative teaching methods and cutting-edge technologies to deliver high-quality education.  
Holy Family University offers its faculty many professional development opportunities, allowing them to further their education and keep abreast with healthcare knowledge. This is the very reason I decided to pursue my doctoral degree at Holy Family University while working there as a faculty member.  
What might a typical week for a distance ABSN student look like?  
A typical week for a distance ABSN student at Holy Family University includes a combination of online coursework, live synchronous sessions, exam, clinical rotation, and self-directed study time.  
What advice do you have for someone considering an online ABSN?  
Pursuing an ABSN program requires a lot of hard work and dedication. Before applying, research about the accreditation, professors, time commitment and curriculum of each school to ensure that they support your aims and career aspirations.  
For instance, our nursing program is accredited by Commission on Collegiate Nursing Education (CCNE)* meaning, the program has satisfied or exceeds established standards for quality and excellence in nursing education.  
We are also transparent to share that our ABSN program is very rigorous, and we do not recommend that students work full-time while enrolled in this program.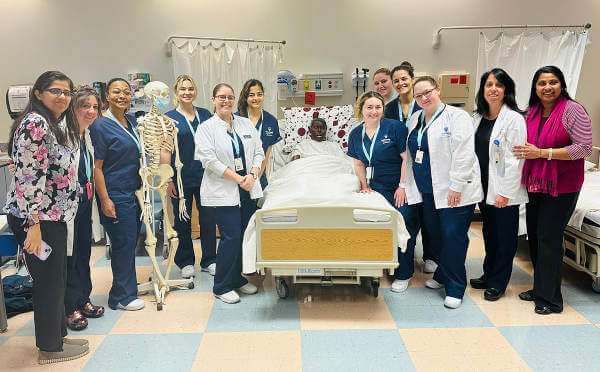 How can students prepare before classes begin?  
Before starting the program, reviewing foundational concepts in biology, chemistry, and anatomy is a good idea to help you succeed in the coursework. Additionally, consider learning good time management and study techniques to keep up with your coursework as you balance personal and academic obligations.  
How does the university ensure diversity, inclusion, and a welcoming community for online students?  
Holy Family University is fully committed to diversity, equity, and inclusion and strives to create a welcoming and supportive community for all students, including those enrolled in the online ABSN program. 
We actively recruit a diverse student body and offers various resources and support services such as a library, center of academic enhancement (CAE) scholarships, grants, financial aid, mentorship, and career development opportunities to every student enrolled in any program.  
Our curriculum is also crafted to be inclusive and culturally responsive and includes clinical experiences that expose students to various patient populations.  
Is there anything else you would like to share about the distance ABSN program?  
Our ABSN program graduates from Holy Family University are well-equipped to render high-quality nursing care to various patient populations because of our program's emphasis on patient-centered care and cultural competence. We have a committed placement team that places students in various clinical sites to provide them with hands-on experience.  
Holy Family University's distance ABSN program provides a rigorous yet convenient pathway for students interested in pursuing a career in nursing. So, consider Holy Family University to achieve your dream of being a nurse.  
Complete the form for more information on Holy Family's Distance Hybrid BSN program