If you are thinking about leaving your current career and taking up nursing as a second career, there are lots of good reasons for you to do so. Nursing is an outstanding career and good, qualified nurses are always needed. Some people feel that nursing is something they are called to do—they are very committed to helping people in need. Others are attracted to nursing as a science-related field. Still, others have a close relationship with a nurse or have been inspired by a nurse who cared for a loved one.
Any of these are good motivating factors for people considering nursing, but you may want to know more about what is involved in becoming a nurse and what a career in nursing could be like.
If you have a bachelor's degree in a field other than nursing, the transition into nursing might be easier than you think. Read on to learn how you can transition into a career that suits you better.
Why Choose Nursing?
Nurses promote health and wellness by educating patients and the community about prevention strategies. To put it in very basic terms, nursing is about caring. If you are a person who wants to help other people move from a condition of pain or disease to a state of recovery, then nursing is a way to do that. Several paths within the field of nursing will allow you to find the right fit for your interests and talents.
Most registered nurses (RNs) perform clinical work in hospitals at the patient's bedside or in another setting where care is delivered, such as: 
Outpatient clinics
Ambulatory surgical centers 
Long-term care facilities
Home health visits
Community clinics
Schools and universities 
Workplaces 
Correctional facilities
Military nursing 
Veterans' hospitals
Public health departments 
Within these settings, there are a variety of special roles that an RN can perform. Some revolve around a particular patient population (for example, children, women, the elderly, or those at the end of life) and others are oriented toward a hospital department or disease focus (like medical-surgical, cardiology, critical care, or oncology).
Other registered nurses choose jobs that have a nonclinical orientation, such as:
Informatics (data management)
Infection control
Legal consultant
Entrepreneur
Quality improvement 
Is Nursing a Good Career?
In terms of job availability, nursing is a good career choice because nurses will always be needed. Experts predict that there will be more nursing jobs available than people prepared to fill them. In fact, healthcare workforce analysts have worried about a shortage of qualified RNs for years.
One reason for the nursing shortage is that the number of people in their 60s and older is a bigger proportion of the population than ever. Many members of the older population, unfortunately, have multiple health problems. Some of these are related to chronic health problems like diabetes, arthritis, chronic obstructive pulmonary disease, and kidney disease. 
In addition, a significant number of nurses are approaching retirement themselves and will soon be leaving the workforce. A national survey conducted by the National Council of State Boards of Nursing in 2020 showed that more than one-fifth of RNs are planning to retire by 2025. 
This number wouldn't be so alarming if there were enough new nurses coming into the workforce to replace those who are retiring, but that isn't the case. As it stands, there are more nursing positions available every year than graduates to fill them. 
Registered nurses who are working, however, are well compensated. According to the U.S. Bureau of Labor Statistics, RNs have a median annual salary of $77,600. And job growth for nurses is 9% for the period between 2020 and 2030, based on data reported for 2021.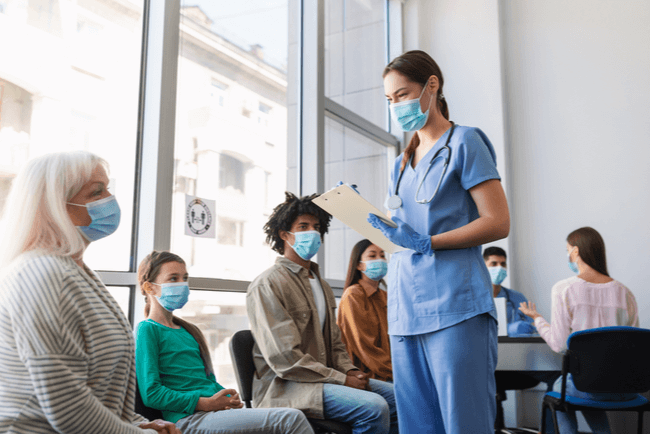 Learn more about our Online ABSN program
The Responsibilities of a Registered Nurse
RNs who work in a clinical setting are responsible for many aspects of patient care, including:
Performing patient assessments

Assessing vital signs
Obtaining a patient history

Administering medications
Preparing patients for tests or treatments
Developing and enacting a plan of care
Educating patients about post-treatment care and general wellness
Working with other health care professionals in interdisciplinary teams
Offering care and emotional support to patients and families
In addition to direct patient care, RNs are responsible for things like maintaining patient records, interacting with administrators of health systems or facilities, and ensuring medications, equipment and supplies are in good order. RNs collaborate within interdisciplinary teams to advocate for patients, keeping their health and safety at the forefront of decision making.
Nurses also have a responsibility to the communities they serve. Nursing schools are educating their students to understand the impacts of social determinants of health. This is how events or stresses in a given community can affect people's health directly or indirectly. For example, if there aren't any stores selling fresh produce in their neighborhood, it will be hard for patients to maintain a healthy diet. This would be especially bad for patients with weight problems or diabetes, but it will affect the nutritional status of children and adults in the area as well.
Become a Registered Nurse in Less Time
Although there are plenty of four-year nursing school programs where students can earn a Bachelor of Science in Nursing (BSN), students who already have a bachelor's degree in another field can pursue a BSN through an hybrid program that include a combination of online coursework, in-person skills residencies and direct patient care clinical hours. These hybrid programs are often called "accelerated BSN" (ABSN) programs because you concentrate on only the nursing curriculum (since you finished your other general education requirements with your first bachelor's) and can finish the program in less time—sometimes as quickly as 14 months.
Here is an outline of steps to follow to earn your BSN and become an RN:
Complete course prerequisites and apply to an accredited BSN program that offers a hybrid accelerated second degree BSN pathway
Once you're accepted into the program, you can begin work on the didactic curriculum, working online from your home or wherever you have a dependable internet connection.
During the first semester, you will attend an on-campus residency to learn hands-on skills and simulations with faculty and peers.
At the appropriate point, you will take part in clinical rotations. These are opportunities for you to engage in hands-on nursing with actual patients while you are working under the direction of an experienced licensed nurse preceptor along with support from a clinical faculty member. These two people will guide you, assess your performance and provide feedback. The faculty member will use input from the preceptor to evaluate your competency level.
Just before graduation, you will apply for licensure as an RN with the state board of nursing. At the same time, you will sign up for the NCLEX-RN examination. Anyone wishing to be licensed as an RN must first pass this exam, which is required for all states and territories. The exam measures your competence in several areas of nursing, including:

Safe and effective care environment
Health promotion and maintenance
Psychosocial integrity
Physiological integrity
Integrated processes

Once you pass the exam and the nursing board records the results, you can receive your license and begin work as a registered nurse.
Choose an Educational Program that Puts You on the Best Career Path
When you are looking for a high-quality nursing program, be sure to consider the Second Degree Distance Hybrid Bachelor of Science in Nursing offered by Holy Family University. Their immersive online program prepares students to enter a new nursing career through coursework designed to impart knowledge and build compassion. 
Program themes are built around such concepts as: 
Effective communication and collaboration
Development of strong critical thinking skills related to clinical judgment
Respect for cultural beliefs and practices in the delivery of safe patient care
Implementing evidence-based practice to enhance patient outcomes
The faculty and administration at Holy Family University are dedicated to student success. Placement services for clinical rotations are offered at no additional cost to the student. The school holds an 89.87% first-time pass rate for the NCLEX-RN exam—a percentage that is higher than the national average.
The university and its program are ranked by U.S. News & World Report as a Best Regional School and a Best BSN Program. The BSN program at Holy Family University is accredited by the Commission on Collegiate Nursing Education (CCNE)* and approved by the PA state board of nursing.
Choose a Second Degree Distance Hybrid Bachelor of Science in Nursing program that will launch your new career in nursing. Download a program guide today!
Online modality pending approval