Earn Your Accelerated BSN Online in Pennsylvania
Online accelerated BSN programs in Pennsylvania are a fast and convenient way to start your new career in nursing. If you already hold a bachelor's degree, an ABSN program prepares you to pass the NCLEX-RN with a BSN degree in less than two years.
Online programs like Holy Family University's distance ABSN are designed to offer quality nursing education to people who don't live near campus. This way, you don't have to permanently relocate to earn your nursing degree. Among online ABSN programs in Pennsylvania, Holy Family offers a highly competitive price point.
Some hybrid or online ABSN programs still require frequent visits to campus or fixed locations near campus. Holy Family's distance ABSN only requires one week of residency at our campus in Philadelphia, and our clinical placement department works to help you find a local site for your clinical hours.
How does Holy Family University compare with other hybrid or online ABSN programs in Pennsylvania?
Program Overview:

Prerequisites Required: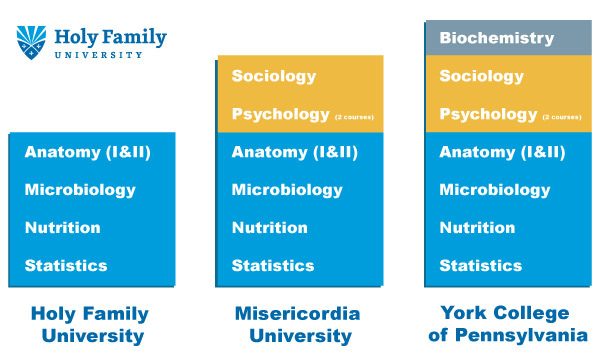 Charts based on publicly-available information that is subject to change. Accurate as of August 29th, 2023.
Access Your Free Program Guide
The ABSN Program from Holy Family University
Holy Family University's distance accelerated BSN program is a fast way to change careers if you hold a bachelor's in any field and want to become a nurse in Pennsylvania but don't live near campus.
It's important to note that while the online format reduces commute time and allows for more flexibility, the online format does not mean this program is easy. It is a fast-paced, highly rigorous program that condenses a typical four-year BSN program into just 14 months. It is very challenging but rewarding and requires a full-time commitment.
At an extremely competitive price, our program prepares students to:
Communicate and collaborate effectively
Provide empathetic care to patients across diverse cultures
Improve clinical judgment through critical thinking
Understand today's healthcare policies and issue
Learn more about Holy Family University's Distance Hybrid BSN program.
Access Your Free Program Guide