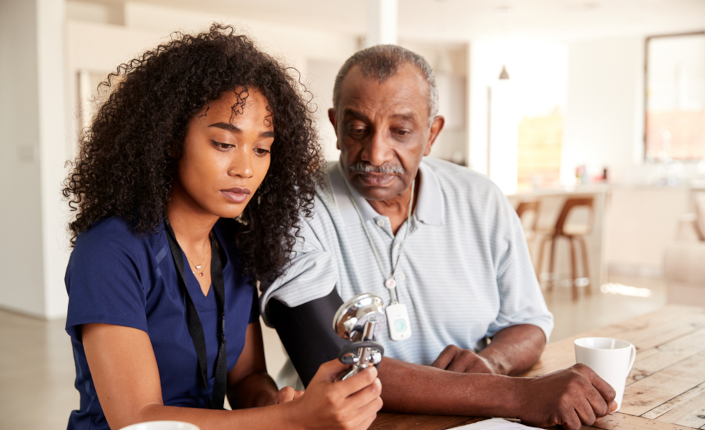 Nursing jobs are some of the most in-demand and competitively paid positions in the United States. The Bureau of Labor Statistics forecasts that the need for nurses will continue to increase, with the number of jobs for registered nurses (RNs) growing by 6 percent over the next ten years. But with so many educational paths to nursing, it can be difficult to figure out the best steps to take to become a licensed provider.
When you're weighing the different choices for pursuing a nursing education, it's important to understand how your decision will impact your opportunities. Nurses who are prepared with a Bachelor of Nursing (BSN) have career options that others in the field don't have access to. Let's take a look at how the Licensed Practicing Nurse (LPN), Associate degree in Nursing (ADN), and BSN degrees compare when it comes to getting hired for desirable positions.
Complete The Form to Access My ABSN Program Guide
What Kind of Nursing is Available for BSN Degree Holders that LPN or ADN Nurses Can't Do?
An LPN or ASN with years of experience will rightly earn respect among their peers and provide value to their patients. And those degrees are great educational pathways to entering the nursing workforce in a relatively short amount of time. You'll find licensed nurses with ADN and LPN degrees working at hospitals (typically as a nursing assistant or tech role), nursing homes, pediatric care centers, and oncology centers.
But there are some jobs that simply won't look to hire nurses who don't have a four-year undergraduate degree in nursing or higher — regardless of that nurse's experience in the field. Without a BSN, you might hit a salary plateau or a limit to how much you are able to get promoted within your organization.
Some employers aren't interested in candidates without a BSN, regardless of experience. As of 2022, the BLS reports that a BSN is already required for 49.1 percent of nurses. The Journal of Nursing Regulation found in 2020 that 65 percent of nurses in the workforce already have a BSN or higher, and statewide data collected in 2019 showed rates of BSN-prepared nurses rising quickly nationwide, progressing toward a goal by the ANA of 80% of all nurses being educated to a Bachelor's degree.
The American Association of Colleges and Nursing notes that a BSN is required to fill these positions, among many others:
Nurse managers and nurse leaders at hospitals with magnet designations
Active-duty nurses in the US Navy, US Army, and US Air Force
Nurse educators
Nurses at the US Public Health Service
Nurse administrators
International nursing positions in certain countries, including the Philippines, Iceland, Korea, and Greece
The BSN may soon become a requirement for nurses working in certain states. New York has already passed a law called the "BSN in 10" that requires newly graduated registered nurses to obtain a BSN within ten years of becoming licensed. Other states have put forth similar legislation, but these bills have yet to pass. If you are currently a nurse or considering nursing as a career, pursuing a BSN before it becomes a state requirement would make it one less (big) thing to worry about in the future.
Nurses who continue to further their education in the medical field demonstrate their commitment to caring for patients. A study published in 2021 showed that patients in hospitals with a greater proportion of BSN-prepared nurses had lower risks of readmission as well as shorter hospital stays. An additional study published in 2022 further underscored how care from a BSN-prepared nurse contributes to fewer hospital readmissions, to the point where hospitals should be economically motivated to hire nurses with higher education levels.
These studies add to a growing body of research that indicates BSN-prepared nurses make a difference when it comes to health outcomes. Knowing this, hiring managers will likely continue to increase their focus on hiring nurses with a BSN whenever possible.
What Are the Highest-Paying BSN Nursing Jobs?
In general, BSN-prepared nurses can expect to earn more over the course of their careers than nurses with an LPN or ASN. A licensed nurse with a BSN will likely start at a higher pay rate than a nurse with an associate's degree. Nursing itself is a higher-paying job when you have a BSN.
Nurses with BSN degrees are more readily considered for leadership positions, which pay more. A registered nurse with a BSN can work as a nursing administrator, which is not an opportunity typically offered to nurses without a bachelor's degree.
Some leadership roles for nurses with a BSN degree are:
Head Nurse
Charge Nurse
Registered Nurse Supervisor
Clinical Nurse Manager
BSN nurses are also more likely to work in higher-paid positions in government and magnet hospital settings. Nurses who work for the government earned an annual median salary of $85,970 as of May 2021.
Alternatively, learn more about the happiest nurse specialties.
The BSN can also be your first step to continuing your higher education in nursing. Nurses with a BSN can pursue a DNP (Doctor of Nursing Practice) or a Master of Science in Nursing (MSN). These degrees open the door to practice as an APRN (Advanced Practice Registered Nurse).
Higher level degrees are necessary if you would like to pursue the highest-paying nursing jobs — nurse anesthetist, nurse midwife, or nurse practitioner. These types of nurses earned a median annual salary of $123,780 in 2021, according to the Bureau of Labor Statistics.
What Jobs Can You do with a BSN Besides Nursing?
A bachelor's in nursing prepares you for a career as a bedside nurse taking care of patients. Coursework will typically emphasize how to help maintain and restore health to patients of all ages, and your clinical hours will provide you with the hands-on experience you need to do that with confidence.
However, nursing in a hospital or traditional healthcare setting is not the only thing you can use your education for. Other jobs for a nurse with a BSN include:
Healthcare manager, managing services for patients in inpatient care facilities;
Health writer or health editor, creating content that helps people live empowered, healthy lives with accurate information;
Clinical research nurse, collecting data and observing patients participating in clinical research trials to help identify new life-saving drugs and other cutting-edge interventions;
Nurse case manager, managing short and long-term health treatment plans for patients with chronic and acute conditions;
Public health educator, teaching children and adults about lifestyle, diet, and exercise choices that can help them live longer, healthier lives;
You will also be qualified for any job that requires applicants to have any kind of four-year bachelor's degree. The BSN offers a host of options when you have completed a high-quality program and are ready to get started applying for jobs.
How to Get Started in a BSN Program
Whether you are considering a second career in nursing, are already working in nursing without a BSN degree, or are pursuing undergraduate coursework for the first time, Holy Family has a BSN program that can work with your current lifestyle and learning needs. HFU's nursing curriculums aim to be immersive, thorough, and comprehensive as you learn to provide nursing care to patients throughout the lifespan.
A BSN can be the key to becoming qualified for some of the most desirable and well-paid positions in nursing. Holy Family University offers on campus and hybrid BSN programs to make it easier to get this degree quickly so that you can be ready for the next opportunity. Get started on the next phase of your career with a Second Degree Distance Hybrid BSN or a Traditional BSN.
Complete The Form to Access My ABSN Program Guide
Learn More About How to Become a Nurse in The Following States: