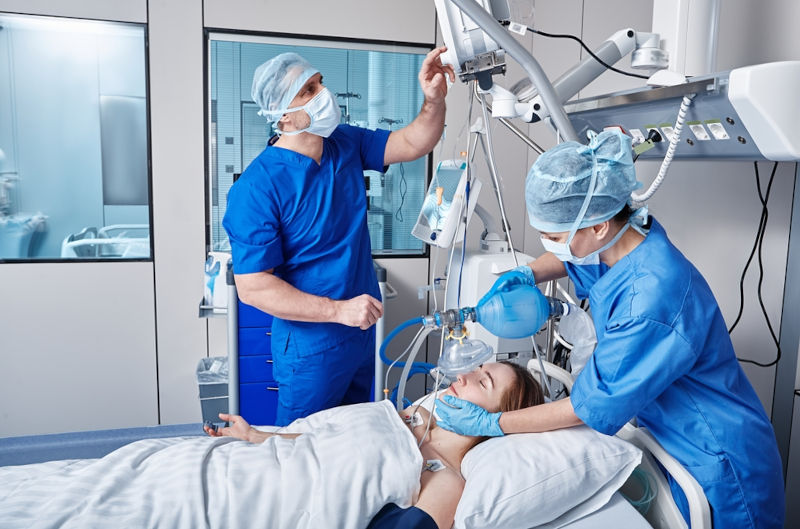 The care of critically ill patients is a specialized nursing skill that you can develop through nursing education and practice experience in an intensive care unit (ICU). If you are interested in becoming an ICU nurse, this blog will walk you through the requirements. 
Recent data from Lightcast™ Labor Insights data confirms a need for United States ICU nurses. From September 2022 to August 2023, there were 226,917 total job postings for intensive care RNs in the U.S., with a median advertised salary of $87.9k annually.
Before enrolling in a nursing program, it's important to consider whether nursing is right for you and the character traits of nursing professionals who work with critically ill patients. 
Is Becoming an ICU Nurse Right for You?
Patients who have life-threatening medical conditions often require quick intervention for a rapidly changing health status. The ICU work environment is fast-paced and potentially stressful for patients, families, and caregivers alike. 
Essential skills for ICU workers include:
Ability to remain calm and think clearly in emotional or high-pressure situations
Excellent communication and effective teamwork
Physical stamina and energy to stay focused during patient care
Aptitude for learning technical knowledge and commitment to continuing education
If these characteristics match your personality and interests, becoming an ICU nurse might be a good fit. Many options are available where you can complete your nursing education efficiently and affordably. You can become a nurse online with in-person clinical and simulation experiences to help you gain confidence and prepare for a future in ICU nursing.
What is an ICU Nurse?
An ICU nurse is trained with the clinical reasoning and knowledge to manage the nursing care of patients in critical condition. The severity of medical situations that ICU nurses encounter requires a high priority to be placed on patient advocacy during times of uncertainty. 
Different types of ICU nurses have unique roles and responsibilities depending on the subspecialty area where they are employed. Subspecialties where ICU nurses work include:
Cardiovascular ICU
Neurology/Neurosurgical  ICU
Pediatric ICU (PICU)
Neonatal ICU (NICU) 
Trauma and surgery ICU
Medical ICU
While ICU nurses do work with emergent medical conditions, an ICU nurse is not the same as an emergency department (ED) nurse. Patients with emergency medical conditions may arrive at a hospital and after their initial treatment have a determination made that they require intensive care. ICU nurses care for patients with life-threatening illnesses after their initial presentation to the ED and until their condition warrants a different level of care.
Responsibilities of an ICU Nurse
An ICU nurse shares many responsibilities common to all RNs, but the critical health status of intensive care patients necessitates timely nursing care. Throughout a nursing shift, an ICU nurse conducts detailed assessments, monitoring of vital signs, and provides responsive intervention in accordance with the plan of care. 
Additional skills for ICU nurses include:
Administration of high-risk medication
Advanced cardiac life support (ACLS) 
Interdisciplinary care coordination
Health assessment and adaptability to the application of technology 
Application of ethical and legal principles 
Critical thinking and clinical judgment are paramount for the work of an ICU nurse. If you are interested in taking the next step to transition into this exciting career, read on for the steps to become an ICU nurse.
How to Become an ICU Nurse
You do not need a nursing background to begin the journey toward a fulfilling career as an ICU nurse. With foundational nursing education and some specialized practice experience, you can become a licensed RN and make progress toward critical care certification. 
Step 1: Complete a Nursing Education Program
Your first step to becoming an ICU nurse is to graduate from an accredited nursing program with either an Associate Degree in Nursing (ADN) or a Bachelor of Science in Nursing (BSN). The BSN degree is preferred for the rigorous training and competencies in evidence-based practice that prepare graduates for diverse roles in various health care settings. 
Careers for BSN-prepared nurses are plentiful, and candidates holding a bachelor's degree in another field besides nursing can complete an accelerated BSN (ABSN) program to become a BSN-prepared RN in less time than a traditional four-year program. Other advantages of ABSN programs include:
Efficient completion timelines for quicker transition into the nursing workforce
Leverage prior education with a curriculum designed for non-nursing backgrounds
Online coursework with in-person clinical experiences
Once you graduate from a nursing program with your degree, the next step is to work toward RN licensure by passing the nursing licensure examination (NCLEX). 
Step 2: Pass the NCLEX
Candidates must pass the national nursing licensure examination to become licensed RN. This is a requirement in all states. The NCLEX is a computer-based test designed to assess competency in clinical judgment required for safe, entry-level nursing practice. 
The exam includes innovative question types designed to test the clinical judgment of a nurse candidate in areas such as:
Effective prioritization of nursing actions
Assessment of client needs
Generation of solutions
Application of the nursing process
Evaluation of clinical outcomes
These are essential skills for all nurses, especially those with ICU aspirations.
When you apply for nursing licensure in your state of residence, you must also apply to take the NCLEX. Some states may grant provisional or temporary nursing licensure while the exam results are pending. In these situations, you may be permitted to begin supervised nursing practice and attain full RN licensure when a passing result on the NCLEX is earned.
Step 3: Work in a Critical Care Role to Gain Experience
You can begin working in an ICU nursing role without critical care certification, but many ICU nurses will obtain the Critical Care RN (CCRN) offered by the American Association of Critical Care Nurses (AACN) to validate your competency in this specialized area of nursing practice. 
Requirements for CCRN certification eligibility include:
Unencumbered RN licensure
Verifiable clinical practice hours
Direct patient care of people with critical illness
Critical care experience accrued during specified timeframes (two to five years) with specified practice hours within the year directly preceding the certification application
The path to becoming an ICU nurse may vary depending on your background. Some RNs may choose to pursue critical care expertise at the advanced practice RN (APRN) level as well. If you are interested in APRN practice, enrollment in a nursing program for a BSN degree is your best path forward, as the BSN is required to progress with graduate nursing education. 
Pursue Your BSN Degree at Holy Family University
Your future in ICU nursing awaits with a BSN degree from Holy Family University. The Accelerated BSN program has been designed for you if you already hold a bachelor's degree. Free clinical placement services are offered to help identify preceptors and sites for your hands-on clinical training, while coursework is delivered 100% online. 
Why choose Holy Family to pursue your BSN? 
Graduation in just 14 months
NCLEX pass rate above the national average
Affordable
Fewer prerequisites are required than in comparable programs
Rigorous yet rewarding 
Students in the ABSN program also complete a one-week, on-campus residency for further development of clinical skills and supportive training from experienced faculty. 
Visit the Second Degree Distance Hybrid BSN program page today to download your free guide.