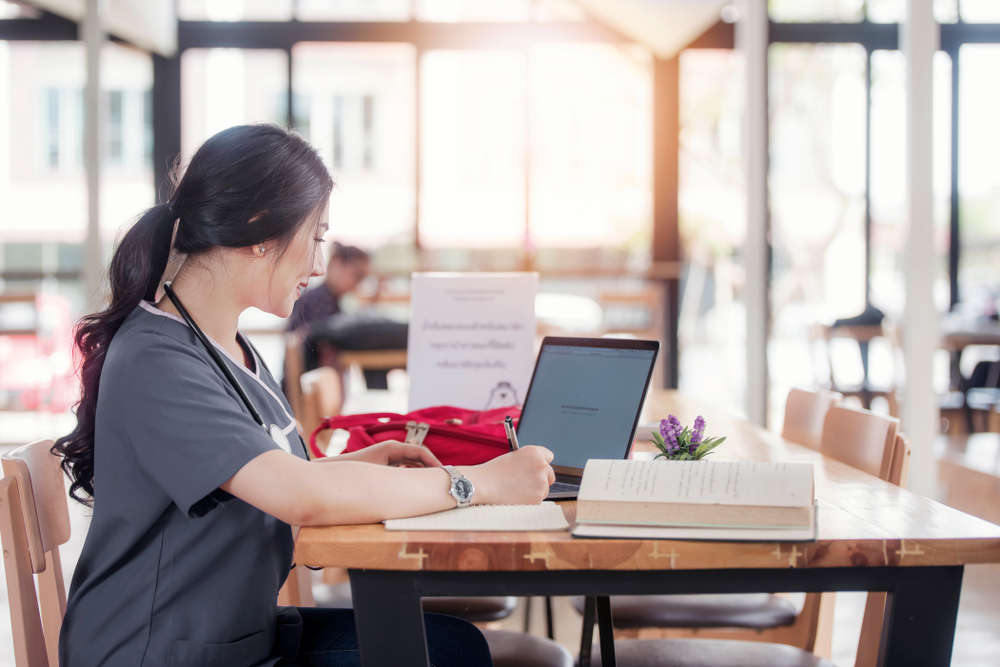 Nurses offer compassionate care to patients of all ages throughout their health journeys. A significant challenge facing hospitals across the United States is finding qualified nurses to build these relationships. A 2023 McKinsey report estimated a shortfall of up to 450,000 registered nurses by 2025.
We'll need a new generation of nurses to meet patient needs, including professionals who started in other careers. Online nursing degrees are available for career-changers inspired to become registered nurses. Let's explore why now is the time to become a nurse before exploring how to become a nurse online.
Complete The Form to Access My ABSN Program Guide
Why is Now the Right Time for a Nursing Career?
An aging patient population and nursing workforce create career opportunities for new nurses. By 2040, one-fifth of the American population will be 65 years and older compared to one-eighth in 2000. A 2020 national survey of nurses found one-fifth of registered nurses planned on retiring by 2025. Newcomers to the field not only fill needs in their communities but shape the future of the profession.
Nursing is a great second career for caring professionals because of the public's trust in registered nurses. A 2022 survey by Gallup found that nurses were rated the most honest and ethical among 17 professions. This is not a one-time occurrence, with nursing placing at the top of the list every year since 2002.
The positive impacts of nurses on their patients and communities translate into high job satisfaction. The National Sample Survey of Registered Nurses (NSSRN) found 89% of respondents were moderately or extremely satisfied with their jobs. This satisfaction level surpasses the 62.3% rate across professions identified by The Conference Board in a 2023 survey.
What is the Best Path to an Online Nursing Degree?
Aspiring nurses should consider the best degree options for their new careers. Eighty-nine percent of registered nurses surveyed by the NSSRN held either associate or bachelor's degrees at the time of initial licensing. Pursuing an Associate Degree in Nursing (ADN) or a Bachelor of Science in Nursing (BSN) is an important choice when switching careers.
A traditional ADN requires two years of study, while a traditional BSN requires four years of study. BSN degrees have evolved into the starting point in nursing careers as employers expect more depth in nursing education. The NSSRN found that only 17% of nurses 34 and younger started with ADNs compared to 31% of the cohort with BSNs.
If you choose the BSN route, you may be concerned about the four-year timeline for graduation. Accelerated BSN (ABSN) programs accommodate career-changing students by focusing on the skills needed in their new professions. ABSN students can typically complete their degree requirements in less than three years of full-time study.
An online ABSN program is ideal for nursing students who want to expand their educational options. For comprehensive nursing education, online nursing degrees combine 100% virtual coursework, in-person clinical placements, and campus residencies. Online ABSN students can learn the science of nursing from home while learning the art of nursing through clinical experiences.
How Does an Online Nursing Program Work?
Online ABSN programs typically require bachelor's degrees in other fields for student admission. Applicants often need to complete prerequisite courses in anatomy, microbiology, and statistics. Online nursing programs focus on the competencies required for successful careers including:
Delivering care to the entire community
Ethics and values in nursing
Evidence-based nursing practice
Healthcare policy
Information technology
Nursing clinicals represent important components of any nursing degree because they bring course lessons to life. Hours spent with patients and experienced nurses refine skills before graduation. Online nursing programs find supervised clinical experiences close to where students live.
Success in the virtual classroom and clinical experiences requires attention to detail. The best way to approach an online nursing degree is to treat these requirements as full-time work. Intensive ABSN programs often ask students to refrain from working other jobs so that they can fully commit to their new profession.
What's Next After an Online Nursing Degree?
Nursing school graduates complete the NCLEX-RN exam within two months of completing their degrees. This five-hour exam requires the completion of at least 85 items in eight areas of client need. The types and amount of questions in the following areas are determined by a candidate's success throughout the exam:
Basic Care and Comfort
Health Promotion and Maintenance
Management of Care
Pharmacological and Parenteral Therapies
Physiological Adaptation
Psychosocial Integrity
Reduction of Risk Potential
Safety and Infection Control
The licensing process for registered nurses varies from state to state. We can use Pennsylvania's licensure standards for registered nurses as an example of typical requirements. Applicants need to submit the following to the Pennsylvania Department of State for consideration:
Transcripts from an approved program of professional nursing
Proof of a passed NCLEX-RN exam
A $95 fee for in-state or a $115 fee for out-of-state applicants
Completion of three hours of training in child abuse recognition and reporting
With licenses, registered nurses can apply for roles that fit their career goals and areas of interest. Generalist nurses work with patients across the lifespan and treat various ailments. Continuing education and training allow registered nurses to pursue specialties in areas like:
Cardiac care
Gastroenterology
Infection control
Pain management
Substance abuse
The educational and licensing processes are the same whether you pursue a traditional or online BSN. Employers look at the quality and reputation of conferring universities when considering nursing applicants. Holy Family University hits both of these marks with its online ABSN program.
Completing an Online Nursing Program at Holy Family University
Holy Family University's Second Degree Distance Hybrid BSN is an accelerated option for career-changing students. In 14 months, you can complete the credits and clinical hours necessary for graduation. ABSN students learn from practicing nurses throughout their enrollment in preparation for the NCLEX-RN and licensure.
Applicants with bachelor's degrees in any discipline and GPAs of at least 3.0 qualify for admission to the program. Holy Family University's prerequisite requirements are streamlined compared to comparable degrees. The 59-credit curriculum provides a strong foundation for future nursing careers with courses in:
Aggregate-Based Nursing Care
Applied Pharmacology for Nursing Care
Medical-Surgical Nursing
Nursing and Older Adult Health Promotion
Nursing Care of Children
Nursing students work with the university's Clinical Placement Services team to find clinical opportunities in their communities. The 504-hour requirement offers supervised, hands-on experiences with patients. Holy Family University also fosters relationships among faculty and students with one on-campus residency per student.
Graduates of the ABSN program are well-positioned for employment opportunities. Holy Family University's nursing alums pass the NCLEX-RN at a higher rate than the national average. This innovative program is accredited by the Commission on Collegiate Nursing Education.
Follow your calling to the nursing profession with an ABSN from Holy Family University.