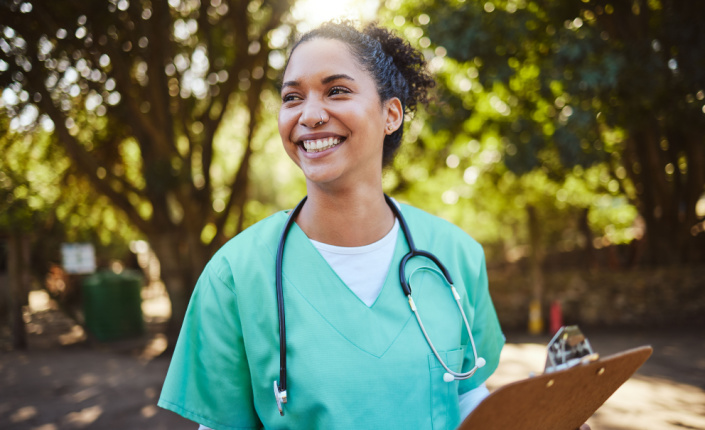 A professional career in nursing is a calling where you will spend a portion of your life engaged in the work of caring for the health of patients and families. Nursing can be extremely rewarding when nurse commitment is present. Commitment is the determination to work with integrity and perseverance because there is a meaningful purpose in what you are doing and valuable reasons for your effort.
A career transition to nursing is a worthwhile change if you are interested in a role where dedication and focus truly make a difference. This blog will explore some reasons to consider a change in your career to a nurse and help you determine whether nursing is right for you. Read on to learn more about the commitment required to be a nurse.
Complete The Form to Access My ABSN Program Guide
Reasons to Change Careers to Nursing
Nursing can make an excellent second career, and it is possible to use your current educational achievements and experience as a foundation for entering a nursing education program. One of the best reasons to change your career to a nurse is a desire to commit to a profession where you are helping others. Nursing has been ranked as the most trusted profession for more than twenty years.
A day in the life of a nurse can have variability depending on the nursing specialty area and the type of employment position. Most nursing roles are fast-paced where you will be active and challenged to continually grow professionally. Some nurses enjoy full-time schedules while others work in part-time or PRN ("as needed") roles with substantial flexibility. Nurses are in-demand for both clinical and non-clinical opportunities.
According to the Bureau of Labor Statistics, the average salary in 2021 for a registered nurse (RN) in the United States was approximately $77,600 per year. Job security is favorable with approximately 3,130,600 nursing jobs and a projected growth rate of six percent from 2021 through 2031. Nurses who are committed to the profession have the chance to experience stable employment and the benefits of their continued practice as they grow from novice to expert.
What Commitment is Required to Become a Nurse?
Nurses must be committed to lifelong learning. The health professions are continually evolving as new technologies emerge and research informs best practices. To be the best nurse you can be, you will need to stay current with treatment methods, available resources, and skills for clinical competency. Other commitments required to become a nurse include:
Commitment to active listening
Commitment to honesty and integrity
Commitment to teamwork with effective communication
Commitment to work attendance
Commitment to professionalism
Commitment to patient advocacy
As a caring profession, nurses are compassionate and empathetic with patients and families. It is essential for nurses to develop resiliency and to have healthy emotional boundaries and self-care practices to ensure they can care well for others. These skills are needed for nurses working in many types of specialties and can be especially important in areas such as psychiatric mental health nursing and hospice.
If these types of commitments resonate with you, a career transition to nursing may be a fitting decision. Nursing education programs are designed to develop these skills through didactic and clinical training where you will have the chance to be mentored and experience real-life patient encounters in a supervised, student role. Next, let's discuss how you can change your career to a nurse from a background in another profession or industry.
How to Transition into a Nursing Career
A nursing education program is necessary to become an RN. For those looking to transition into a nursing career, there are a few different routes available. Some individuals choose to become an RN through an associate's degree in nursing (ADN) program that typically takes around two years to complete. Others choose to enter a traditional four-year bachelor of science in nursing (BSN) program because the BSN degree is beneficial for continued professional advancement for roles such as:
Nurse educator
Nurse practitioner
Nurse administrator
Nurse informaticist
Nurse anesthetist
Nurse researcher
The BSN degree is also attainable for those looking to enter nursing as their second career through the completion of an accelerated bachelor of science in nursing (ABSN) program. Like an ADN program, the ABSN programs are typically able to be completed in about two years while simultaneously culminating in graduation with a BSN degree.
First Careers that Make an Easier Transition to Nursing
Careers in patient care, customer service, and education may all be opportunities to transition into nursing because the skills learned in the first career can be applied in the role of a nurse. Let's explore some first careers that may transition seamlessly to nursing.
Certified Nursing Assistant
A career as a certified nursing assistant (CNA) provides an outstanding opportunity to transition into nursing as a second career because of the foundation in patient care. Through the CNA role, you gain experience in communication with patients and families while growing in comfort with nursing aide skills and the use of some durable medical equipment such as Hoyer lifts and ambulation. CNAs are part of the health care team and have a proven record of commitment to professionalism and attendance and may work in a variety of health care settings.
Teacher
Another career that makes an easier transition to nursing is that of a teacher. Nurses are committed to patient advocacy and also have ample opportunities to educate patients throughout new disease processes, procedures for health care at home, and many other health promotion and disease prevention topics. Teachers are skilled in education and the practical application of a variety of learning strategies for auditory, visual, and tactile learners that all have applications in the clinical setting in the role of a nurse.
Social Worker
Individuals with a first career as a social worker have invaluable experiences with clients and families who may be in need of holistic support through difficult life situations. The experiences of a social worker may provide a strong background in trauma-informed care, emotional intelligence, and connection with community resources that directly transition to the role of a nurse. Social workers have demonstrated commitment to helping improve quality of life in hands-on work requiring excellent communication skills, patience, and integrity.
Military
Individuals who are currently serving or have a desire to serve in the military may have an easier transition to nursing because of the need for military nursing practice within the U.S. Armed Forces. Military nurses may work on military bases and health care facilities providing nursing care to military personnel and their families. At times, military nurses are deployed to care for soldiers and are called to serve in times of crisis.
With a bachelor's degree in any field, you can enroll in a second degree distance education program and use existing education toward your nursing degree. Online ABSN programs are available to help you make this career transition simple, efficient, and affordable.
Earn Your Second Degree as a Nurse at Holy Family University
With Holy Family University's Second Degree Distance Hybrid BSN program, you can achieve your BSN degree in an accelerated format with 100% online coursework and in-person clinical experiences. This top-ranked program is accredited by the Commission on Collegiate Nursing Education (CCNE) and provides complimentary clinical placement support and exam preparation to help you succeed in becoming a second career nurse.