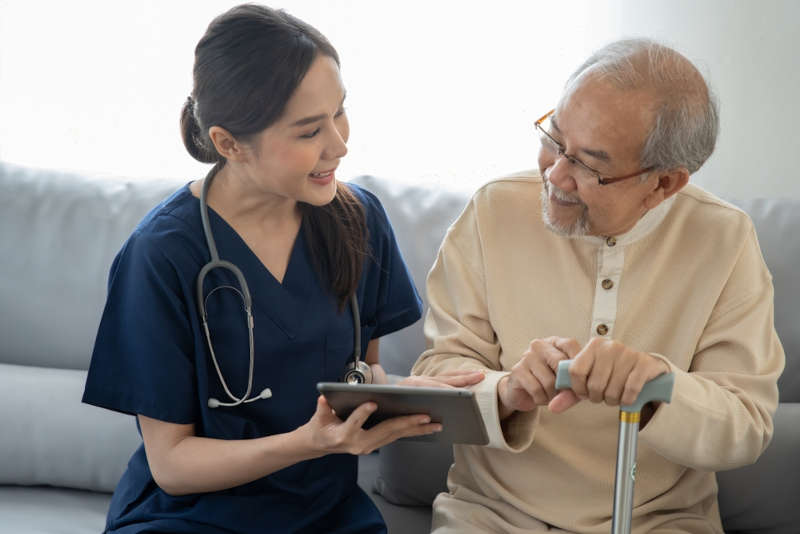 If you want to transition from your current career into nursing, you likely have questions about the different types of educational programs and nursing degrees available. Two common routes to becoming a registered nurse (RN) include the Associate's Degree in Nursing (ADN) and the Bachelor of Science in Nursing (BSN) pathways. 
Online nursing programs can be efficient and affordable options for becoming a nurse as your second career. Accelerated BSN (ABSN) programs are specifically tailored for individuals with a bachelor's degree in any non-nursing field. 
We have compiled an in-depth look at the ADN vs. BSN to help you understand the pros and cons of each degree type so you can make an informed decision on the best path forward.
ADN vs. BSN: An Overview
The length of different nursing programs is one of the most common inquiries from prospective students. The ADN is typically a two-year degree, while a traditional BSN is designed for completion in four years. However, the ABSN program option is also shorter in length but for individuals with a current bachelor's degree who are looking to fast-track their transition to nursing. 
While both ADN and BSN programs effectively prepare graduates to become RNs, the additional eductional commitment required to earn a BSN results in a more comprehensive education and a higher level nursing degree. There are many careers for BSN-prepared nurses that may not be accessible with an ADN.
ADN programs more frequently offered by community colleges and technical schools while colleges and universities typically offer the BSN degree.
Complete The Form to Access My ABSN Program Guide
Curriculum Similarities and Differences
The academic curricula of ADN and BSN programs share several components. These include:
Fundamentals of nursing care

Development of critical thinking skills

Hands-on clinical experience

Health sciences (e.g. anatomy/physiology, pathophysiology, and pharmacology)
BSN education also includes foundational information on nursing theory, which is important for evidence-based practice and the application of nursing skills in research. Nursing theory helps guide clinical decision-making and establishes nursing as a profession distinct from other health care disciplines. 
Job and Salary Outlook
Compelling evidence continues to demonstrate that patient outcomes are favorable in health care organizations with a greater percentage of BSN-prepared nurses. Both clinical and non-clinical job opportunities are available for nurses with a BSN degree, and salary information for RNs is based on the standard of the BSN as the typical entry-level education. 
According to the Bureau of Labor Statistics, the average RN salary in 2022 was approximately $89,010 annually. The following annual salaries were also reported according to the highest-paying industries:
$97,200 for RNs working in outpatient centers

$90,600 for RNs working in general medical and surgical hospitals

$82,920 for RNs working in home health care settings
In 2022, industries with the highest number of RNs employed were:
General medical and surgical hospitals (employed approximately 1,724,510 RNs)

Physicians' offices (employed approximately (208,760 RNs)

Home health care services (employed approximately 173,640 RNs)
Nursing is a profession with a positive job outlook, and both ADN and BSN programs can help you achieve your goal of becoming a nurse. 
Advantages of Accelerated BSN (ABSN) Programs
Determining whether nursing is right for you may depend on the investment in completing a nursing degree. An advantage of ABSN programs for those with a bachelor's degree in a non-nursing field is the potential to attain the preferred BSN degree in a much shorter amount of time than a traditional four-year BSN program requires. 
Features of ABSN programs include:
Completion in less than two years for efficient transition into the nursing workforce

Didactic content is offered 100% online with a flexible learning environment

Precepted clinical experiences with student placement services available

A curriculum tailored for those seeking a second degree as a nurse
Another important consideration when comparing available nursing education programs is the average pass rate of graduates on the nursing licensure examination (NCLEX). 
NCLEX Pass Rate Comparison
Upon graduation from a nursing program, RN licensure candidates are required to take and pass the national nursing licensure examination. The National Council of State Boards of Nursing (NCSBN) has published NCLEX statistics with a breakdown allowing comparison of the pass rates according to the type of nursing program completed.
In 2022, statistics revealed the following percentages of U.S.-educated candidates who passed the exam on the first attempt:
82.32% of BSN graduates passed 

77.91% of ADN graduates passed

78.31% of diploma graduates passed
At mid-year, 2023 NCLEX statistics continue to demonstrate similar trends with BSN graduates achieving the highest pass rates reported by nursing program type. This data is also specific for first-time U.S.-educated exam candidates. 
Which Degree Is Right for You?
Accelerated BSN programs are alluring options because they are shorter in length and prepare graduates for nursing practice. An ADN program is an alternative for those who do not have a preexisting bachelor's degree in another non-nursing field, but the BSN degree provides more opportunities such as:
Higher salary potential

Prerequisite for graduate nursing education

Career advancement into specialized roles
A traditional BSN or ABSN program can serve as the stepping stone toward graduate nursing education if you have a longer-term goal of becoming an advanced practice RN. 
Prepare for Nursing Practice with an Accelerated BSN from Holy Family University
If you have a calling to change careers and serve as a nurse, your bachelor's degree in any field can be the starting point. The online ABSN program at Holy Family University is mission-driven and trains you to be a holistically-trained nurse with the knowledge and leadership skills to advance the profession and manage patient care across the lifespan. 
As a student in Holy Family University's online ABSN program, you will also receive:
Dedicated clinical placement services

Access to expert faculty in a top-ranked program

NCLEX examination preparation

Support to earn your nursing bachelor's degree in just 14 months
To learn more and connect with an admissions counselor for enrollment information, visit the Second Degree Distance Hybrid BSN program page today.
Complete The Form to Access My ABSN Program Guide
Learn More About Becoming a Nurse in The Following States: