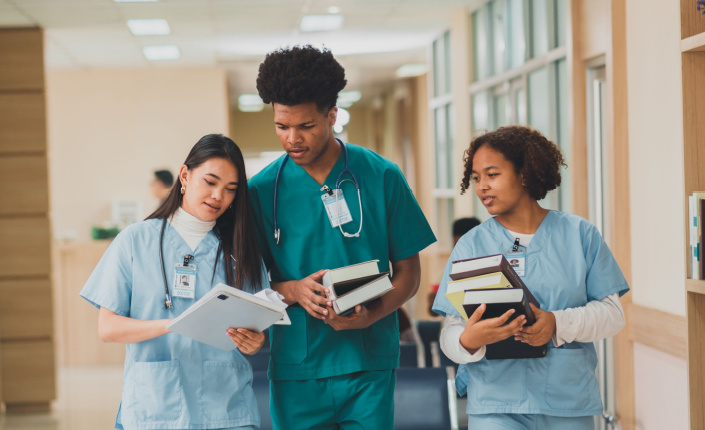 The need for new nursing graduates is considerable in our world today where a nursing shortage continues to make news headlines in nearly every state. The potential options for nursing education programs are plentiful. With so many choices, it can be challenging to determine which type of program is best for you.
Is an accelerated nursing program worth it? The purpose of this blog is to help you answer that question. We'll look at why an online accelerated Bachelor of Science in Nursing (ABSN) program may be one of the most affordable and effective ways to reach your professional goals. It is possible to efficiently transition from your current occupation to engage in nursing as a second career. With a bachelor's degree in another field, you can be eligible for enrollment in an accelerated nursing program.
Second-degree programs may use an earned degree as the foundation for achieving a Bachelor of Science in Nursing (BSN). Let's take an in-depth look at the accelerated nursing program benefits that make this degree path distinct from the rest.
Complete The Form to Access My ABSN Program Guide
What is an Accelerated Nursing Program?
An accelerated nursing program is a fast track for undergraduate nursing studies where experienced nursing faculty serve as educators for nursing students and develop the students into holistically-trained clinicians who are then able to serve in diverse nursing roles.
Accelerated programs are frequently delivered with 100% online coursework and in-person clinical hours. Many programs also offer an on-campus residency experience to hone necessary clinical skills and help you gain comfort before you deliver hands-on care in a supervised nursing student role during your clinical placement.
Topics you can expect to study and apply to real-life situations while in an accelerated nursing program include:
Nursing assessment and other clinical material
Evidence-based nursing practice
Communication for patient care and interdisciplinary collaboration
Professionalism and critical thinking
Healthcare policy and information technology
An accelerated program may be an efficient way to earn your degree, but it is not short on academic rigor with a focus on successful programmatic outcomes.
Accelerated Nursing Program Benefits
One of the primary benefits of accelerated nursing programs is that the curriculum design has been intentionally crafted to foster quality clinicians in a rigorous, fast-paced manner. These programs are a preferred route forward to graduating quickly and becoming a nurse in the shortest amount of time.
The idea of a fast-paced program can be overwhelming, especially when nursing programs are challenging. It can be helpful to consider whether nursing is right for you as an initial step. This profession may be an excellent fit for you if:
You enjoy caring for people
You are a good listener
You enjoy flexibility in work hours and locations
You desire a broad range of career options
Accelerated nursing programs are one of the quickest ways to become a Registered Nurse (RN). An online ABSN program is exciting because it allows you to achieve your BSN degree and become an RN in two years or less.
According to the Bureau of Labor Statistics, RNs that are typically prepared with a BSN degree have a favorable salary potential. In 2021, the median annual wage for RNs was approximately $77,600, while the median annual wage for LPNs and LVNs was approximately $48,070.
Careers for BSN-prepared nurses extend beyond the hospital and outpatient clinic settings, although many fulfilling employment positions are within these areas. A BSN degree opens opportunities for non-clinical positions and additional nursing certifications where you may find work in areas such as:
Nurse education
Nurse administration
Healthcare informatics
Forensic nursing
Public health
Leadership and management
Another type of nursing education program with a relatively short completion timeline is an Associate's Degree in Nursing (ADN) program where you can also become an RN but without the BSN degree. The main benefit of an ABSN option, when compared to the ADN, is that the ABSN allows you to achieve the BSN degree which is valuable for professional advancement.
Next, let's explore some of the very best reasons to join an ABSN program.
Why Choose an Accelerated Nursing Program?
1. Accelerated nursing programs help you reach your goals faster
First, an accelerated nursing program will allow you to complete your nursing education faster than a traditional program. The sooner your nursing education program is completed, the sooner you will have the opportunity to celebrate your graduation with friends and family. As an ABSN program graduate, you will then be eligible to apply for nursing licensure and to sit for the national nurse licensure examination (NCLEX).
Once you achieve your passing score on the NCLEX and are granted RN licensure, you are then able to enter the workforce as part of this in-demand profession. It's really exciting to think that your future nursing job could be less than two years away.
Second, the completion of an accelerated nursing program with the achievement of the BSN degree is a prerequisite for graduate nursing programs. If you are passionate about the idea of working as an advanced practice clinician in the role of a nurse practitioner, for example, the BSN degree will allow you to transition into a graduate nursing program faster.
A Master of Science in Nursing (MSN) degree or the terminal Doctor of Nursing Practice (DNP) clinical degree are both pathways for potential careers in nursing such as:
Nursing faculty within colleges and universities
Executive leadership within health systems
Nurse practitioners serving specific populations and age groups
Advanced roles in nursing informatics
Clinical nurse specialists
Certified registered nurse anesthetists
You may be thinking about the shorter-term transitions from your current career toward nursing, but longer-term options are available for ambitious individuals seeking to become advanced nursing clinicians and health care leaders.
2. Accelerated nursing programs connect you with a diverse group of colleagues
In addition to helping you reach your goals faster, the flexible nature of the ABSN program is appealing to many different life situations. For this reason, you will be connected with a diverse group of colleagues while completing your education. This exposure is advantageous because you gain access to a network of future nurses and have the chance to learn from their individual backgrounds and clinical experiences while in your program.
Online nursing programs are immersive. With the technology available today, you have the opportunity to connect with your fellow classmates through a variety of learning management systems and platforms. You can collaboratively discuss case studies, interesting clinical experiences, and more through the connections made in the online classroom.
Your colleagues also help provide encouragement and motivation to stay on the course when you are committed to an accelerated nursing program. They are there to help you celebrate milestones and persevere through the more challenging moments of nursing school along with dedicated program faculty and staff.
3. Registration for classes is relatively easy
Accelerated programs not only have enrollment support available but there are also often multiple start dates each year because individual courses are shorter in duration. Ease of course registration is made possible because there are flexible options for completing your program.
Because of the shorter course lengths, you will also find closeness to other student cohorts in the program who can share their experience and tips for how to succeed in an accelerated program. Professional connections with your colleagues from nursing school can last a lifetime.
When it comes time to locate your clinical experiences, some online ABSN programs include complementary clinical placement support to help your clinical rotation:
Be secured with a qualified preceptor
Meet the required program outcomes
Finalize in a timely manner
Fall within a reasonable distance of your geographical location
Allow you to focus on your studies
During the registration process, you will also have access to support staff who will help you discover tuition and financial aid options to complete your ABSN in an affordable way.
As you explore the many available online ABSN programs, it is crucial to look for an accredited program that is mission-driven with expert faculty that will prepare you for future success. As a university that meets these criteria, Holy Family University is an excellent choice to consider.
Holy Family University Offers a Top-Ranked ABSN Program
If you are ready to begin the transition from your current career toward nursing, Holy Family University offers an online ABSN program that is accredited by the Commission on Collegiate Nursing Education (CCNE). The program prepares graduates for success with pass rates on the NCLEX above the national average.
The curriculum is designed to train nurses in the delivery of holistic, quality care. Coursework is delivered 100% online with one on-campus residency experience and required clinical hours with clinical placement services included in the program.
Complete The Form to Access My ABSN Program Guide
Learn More About Becoming a Nurse in The Following States: